Portable Blender Electric Blender Kitchen Mini Mixer Juice Press Lemon Squeezer Fruit Juicer Orange Juicer Hand Mixer Electric
Detailed description:
Product Name: Wireless Juicing Cup
Rated voltage: 3-5V
Material: ABS+stainless steel
Type of cutter head: four cutter heads
Built-in battery: 1500mAh
Capacity: 350ml
Size: 80*185mm
Friendly Reminder:
1. There may be a little color difference between the picture and the actual product.
2. Due to the size is manually measured, please allow a little difference.
3. If there is any problem with the product, please feel free to contact me, it's my pleasure to help you. Thank you so much for your support and trust in our store!
Wiressless Juicer Cup Lightweight and Portable
Stripe mechanism, beautiful lines, comfortable and more fashionable


Freshly Squeezed Fruit Tease The Taste Buds
There are new surprises every day, and it's also good to pair with juice and milkshake.



Small And Fresh Conquers The Girl's Heart
popular minimalist design Let the goddess love it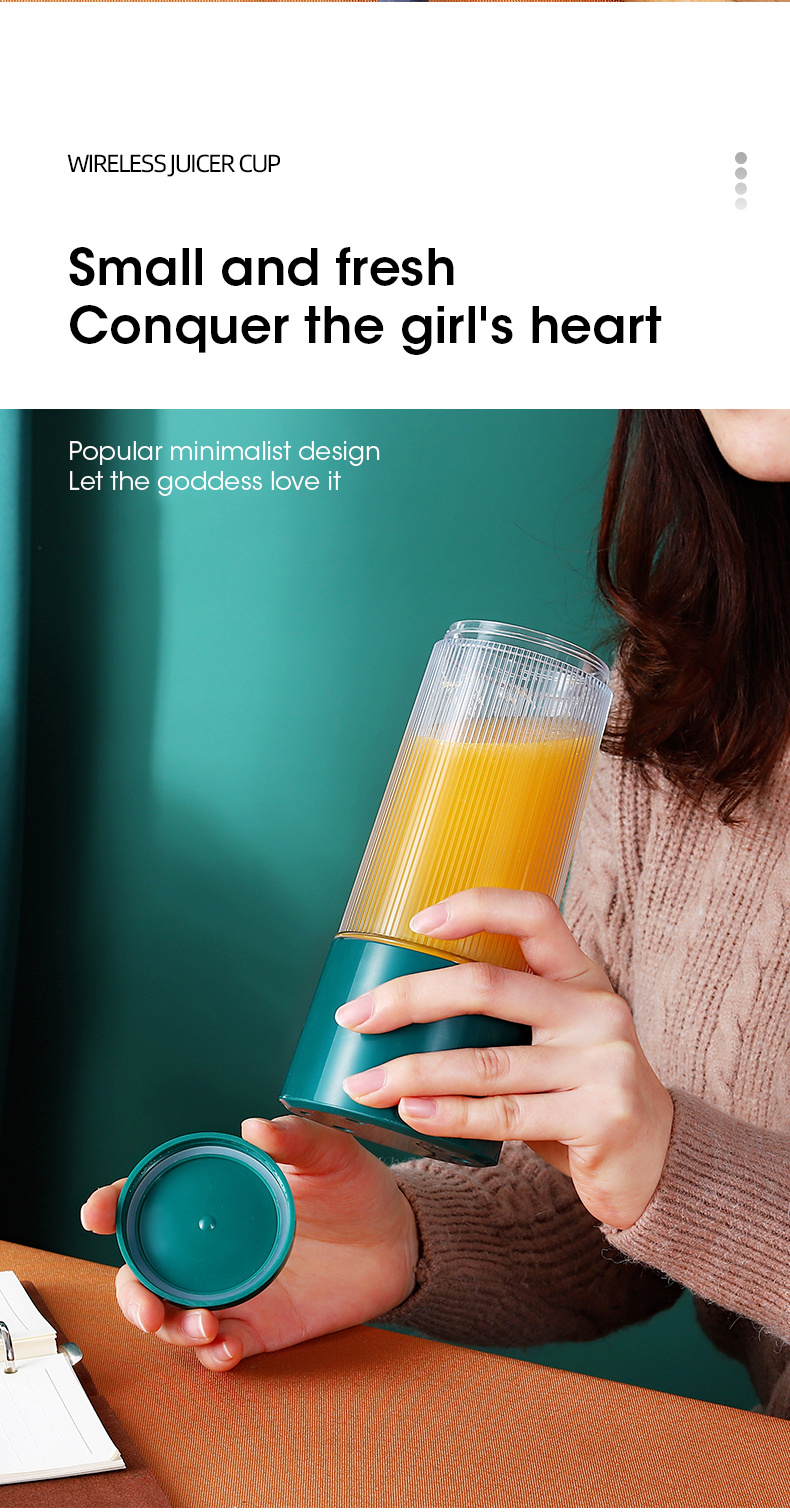 Original Flavor Mobile Fruit Drink Shop
Fall in love with a healthy and vibrant life Nutrition is the best juice



3 Simple Steps
Enioy a Healthy Life
-Step 1:put the ingredients
-Step 2:Tighten the cover
-Step 3:Double-click the switch, wait for 40 seconds


Trend Is Appearance Nice And Practical
A mobile juicer for young people to awakens vitality and be happy



Rich In Fresh Fruits And Vitamins, Want To Drink Every Day
Once the fruit is placed, wait for 40 seconds to taste delicious and easy to absorb.



Easily Squeeze 12 Cups And Go Out For A Day Casually



350ml Gold Capacity, Enjoy Delicious Constantly
N8 Pro Juicing Cup 350ml, appropriate and timely consumption, so that the nutritional value and taste of fruits and vegetables are just right



Hidden Cutter Head Design Let Strength And Beauty Coexist



Mini Lightweight Body For Easy To Bag
Carrying around is not a burden, small bags can also be put.



Cup Body Stripe Structure, Comfortable And Non-slip
Food-grade material cup body, small and practical juicer cup to take care of girls' slender hands



One-Key Automatic Cleaning For A Sense Of Ease Without Worring.
The blade drives the water flow to wash the inner wall, blades and other parts, making the lazy person feel at ease.



Product Detailed
1,Cup body separation automatic power-off---
There is a tightness switch on the lid, which can only be started when it is aligned with the card position, and the power is automatically cut off when the lid is opened
2,Double click to start---
Double click to start click to stop easy to use
3,food grade material cup---
Food grade material is BPA free
4,USB charging---
Standard USB charging port for drinking anytime, anywhere

優惠條款及細則
⭐️
七天無理由退換
承諾,信心保證
⭐️六年老店,日銷商品百件,好評如潮
⭐️-屋企附近自提點自取
☎️訂購前請先
Whatsapp:68259869
質 詢 電 話:66867308
或店铺沟通查詢,提供留貨服務
用戶必須先了解及清楚購買之詳情及方法,不能以此作理由提出爭議。
產品圖片只供參考。
付款成功後,顧客將會收到由系統所發出的購物確認信,所有交易資料以此確認信為準,請務求在確定購買前確認填妥正確的聯絡資料。
Price之私隱政策、使用條款及免責聲明適用於本活動。
其它條款及細則。
⭐️
支持電子消費券
⭐️
用手機及電腦網頁版落單,可以接受AlipayHK ,八達通 , Tap & Go , WeChat Pay HK,Payme付款
✅接受 AlipayHK / 八達通 / Tap & Go / WeChat Pay HK
🏆消費者購買商品後,依然可以隨時取消訂單; 視客戶時間要求而定,一般送貨時間為2-7天; 如商品缺貨或客人收到產品有問題可以在7天內免費退換。
🏆
手機端APP多種付款方式攻略: