Note :
This product is made by Xiaomi cooperation brand, shipping without Xiaomi packing and there is no Any xiaomi logo on the product.
Thanks for your understanding.
MD158 Gaming Headset
IMPORTED BLUETOOTH 5.2 CHIP
GAME MUSIC ULTRA LOWLATENCY
80% Data capacity 
30% Compression loss
2.4MBS Transmission speed 
80% Transmission loss 
DREAM CHASER· MD158
ELECTRONIC COMPETITION
WIRELESS HEADSET
HIFI SOUND QUALITY/DUAL MODE DUAL DECODING/HD CALL 0 DELAY
MULTI-FUNCTION CHARGING COMPARTMENT
CAN BE USED ASA BRACKET
MD158 adopts multi-function humanized design
THE ADVANTAGE OF MD158
New Smart Bluetooth Chip 5.2
Stable and Delay Free
Old chip obsolescence
There is no inductive delay in synchronous audio-visual identification
300 ms eliminated
Three mode three decoding as you wish
Dual mode elimination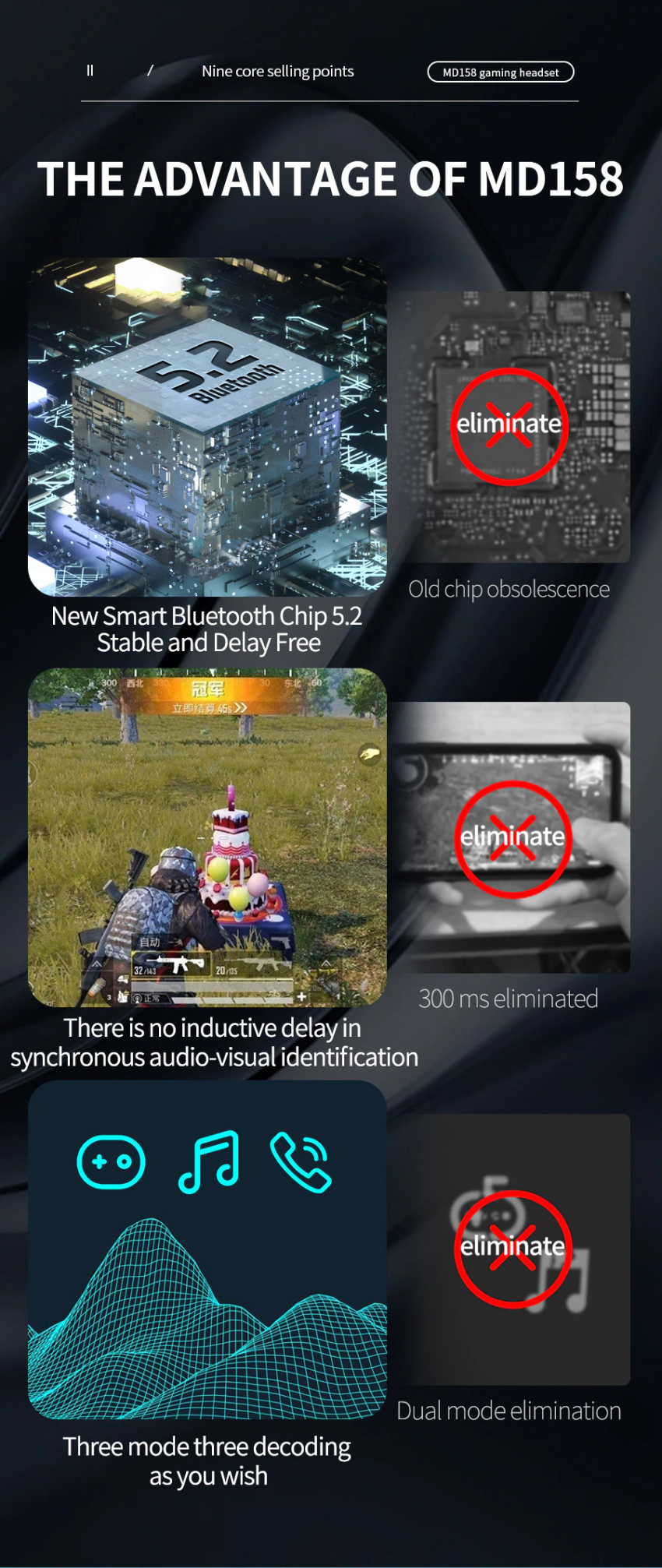 MD158
COMBA TEFFECTIVENESS AWAKEN
GAME MODE
PUA decoding
Stable 45ms ultra-low delay, accurate. Listen to the voice, help you eat the chicken
MUSIC MODE
SAN decoding
quality depth analysis, HIFI fever sound quality.Delay is higher than game mode
THE NEW 2021
THE LATEST MD158 WIRELESS SMART HEADPHONES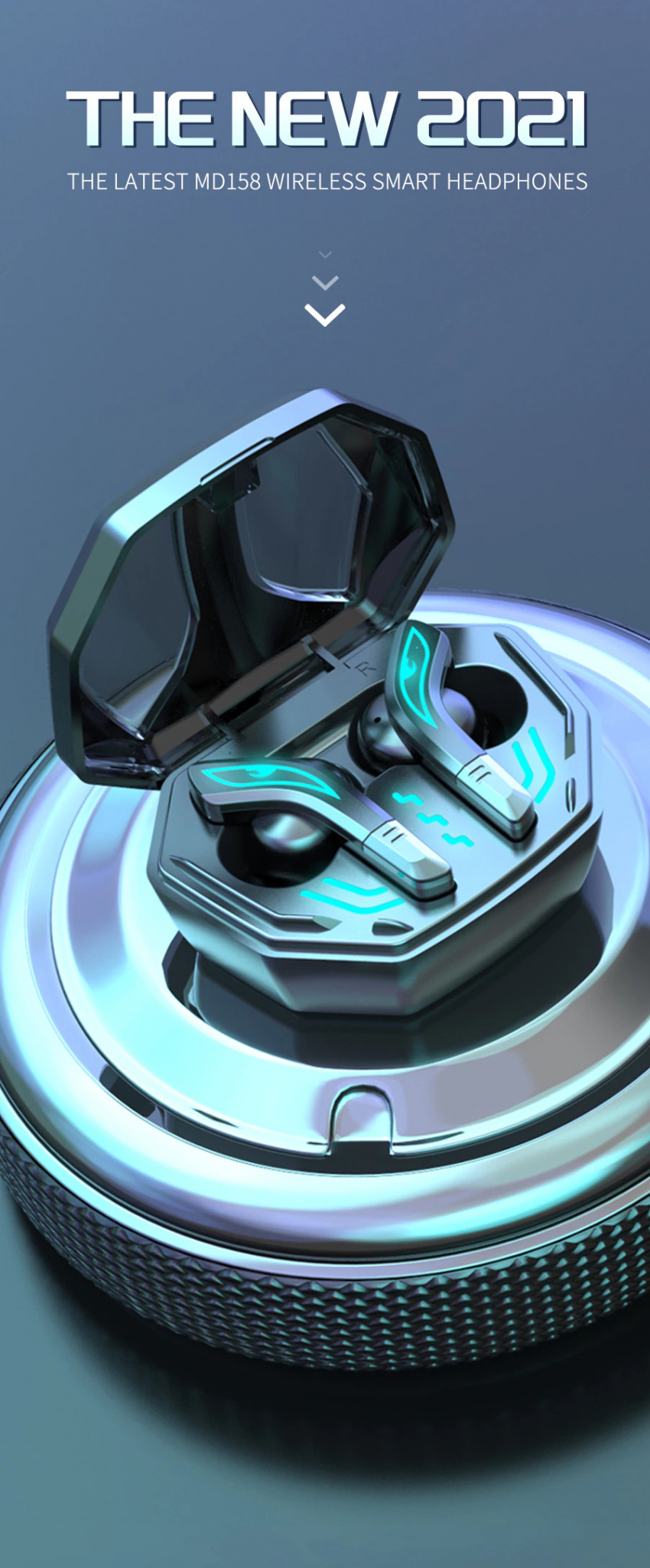 Different gaming headsets
A new experience
MD158 is different for you
ULTRA CLEAR CONDENSER MICROPHONE
BATTLEFIELD INFORMATIONEXCHANGE ATALL TIMES
NO INDUCTIVE DELAY FOR 0.06S IT'S ONE STEP AHEAD
AMMUNITION IS PLENTIFUL AND THE FIGHT WILL NOT STOP CONNECT SUPPLIES FOR 6 HOURS
CORE SELLING POINT
Nine core selling points
0.06 s Non-inductive delay
Dual mode Double decoding
E-sports iridescence Breathing lamp
AAC decoder AGC control
360° Hearing argument
13mm unit Gold horn
HI-FI Feverish sound quality
hall switch Quick cover opening
Dual host Master slave switching
NO DELAY
CONQUERING THE AUDIENCE
Game 0 delay to conquer the entire audience
0 SECOND DELAY IN GAME MODE TO GET THE FIRST HAND
DUAL MODE DOUBLE DECODING
Long press for three seconds to switch mode to give you a refreshing experience
GAME MODE
Pau decoding
Stable 45ms ultra low delay
Accurate listening and speaking, help you eat chicken
MUSIC MODE
San decoding
Depth analysis of sound quality
HiFi fever sound quality imagination music
When using Bluetooth headset
Are you in such a dilemma?
There's a delay in the headphones, No I can hear the steps in time.
The connection is not stable,there are some problems It's hard to hearthe noise.
In the middle of the game, all of a sudden There's no power, not enough battery life.
SMART KEY
EASY AND SIMPLE
FINGERTIP MAGIC
ONE HAND CONTROL, GLOBAL CONTROL
Abandoning the traditional physical buttons to cause discomfort and slow response,Touch operation one key to realize the operation of call, music voice assistant, etc.
Double click the left ear
Sound-
Click the left ear three times
The previous song
Press the left ear for 2 seconds
Wake up voice assistant
Double click the right ear
Sound+
Click on the right ear three times
Next song
Press the right ear for 2 seconds
Switching mode
single click
Play / pause
Long press for 2 seconds 
Reject calls
single click
Reject / hang up
Product parameters
Product Name:MD158
Product size:51*68*33mm
Product color:Red / Black /blue
Transmission distance:>10m (barrier free open space)
Sensitivity:96dB+3dB
Charging interface:TYPE-C
Product model:BTMVO9
Product material:PC/ABS
Bluetooth version:Bluetooth5.2
Frequency response range:20Hz-20KHz
Impedance:32Q + 15%
Super long standby time:More than 240 hours
Charging times of charging chamber:3-4 times
優惠條款及細則
⭐️
七天無理由退換
承諾,信心保證
⭐️六年老店,日銷商品百件,好評如潮
⭐️-屋企附近自提點自取
☎️訂購前請先
Whatsapp:68259869
質 詢 電 話:66867308
或店铺沟通查詢,提供留貨服務
用戶必須先了解及清楚購買之詳情及方法,不能以此作理由提出爭議。
產品圖片只供參考。
付款成功後,顧客將會收到由系統所發出的購物確認信,所有交易資料以此確認信為準,請務求在確定購買前確認填妥正確的聯絡資料。
Price之私隱政策、使用條款及免責聲明適用於本活動。
其它條款及細則。
⭐️
支持電子消費券
⭐️
用手機及電腦網頁版落單,可以接受AlipayHK ,八達通 , Tap & Go , WeChat Pay HK,Payme付款
✅接受 AlipayHK / 八達通 / Tap & Go / WeChat Pay HK
🏆消費者購買商品後,依然可以隨時取消訂單; 視客戶時間要求而定,一般送貨時間為2-7天; 如商品缺貨或客人收到產品有問題可以在7天內免費退換。
🏆
手機端APP多種付款方式攻略: