Please operate the gimbal in a correct steps to power on your gimbal properly.
Mobile Phone Compatibility List
Apple:iPhone 13 Pro Max, iPhone 13 Pro, iPhone 13, iPhone 13 mini, iPhone 12 Pro Max, iPhone 12 Pro, iPhone 12, iPhone 12 mini, iPhone 11 Pro Max, iPhone 11 Pro, iPhone 11, iPhone SE2, iPhone XS Max, iPhone XS, iPhone XR, iPhone X, iPhone 8 Plus, iPhone 8, iPhone 7 Plus, iPhone 7, iPhone 6s Plus, iPhone 6s
Samsung :Galaxy S20 Ultra, Galaxy S10+, Galaxy S9+, Galaxy S9, Galaxy S8+, Galaxy Note10+, Galaxy Note9, Galaxy Note8
HUAWEI :Mate 40 Pro+, Mate 30 Pro, Mate 20 Pro, Mate 20X, Mate 10 Pro, Mate9, P40 Pro+, P30 Pro, P20 Pro, Nova 5Pro
Xiaomi :Mi CC9 Pro, Mi 10 Pro, Mi 10 Ultra, Mi8, Mix 3, Mix 2, Redmi K30 (Ultra)
OPPO :Reno3 Pro, Reno2, Reno, Find X, Find X2 Pro, R15
VIVO :X50 Pro+, X30 Pro, NEX 3, NEX S, X27
HONOR :30 Pro+, V20, Magic 2, 8Google :Pixel 3XL
OnePlus :OnePlus 8 Pro, OnePlus 7 Pro, OnePlus 6T
Realme :Realme X50 Pro, RealmeX
System :Requires iOS 10.0 or above/Android 7.0 or above
Compatible Phones:
Compatible Phone Weight: 280g
Compatible Phone Thickness: 7-10mm
Compatible Phone Width: 55-90mm
[IMPORTANT]  User Guide
1.Please download APP "ZY Cami" after you receive Smooth Q3.
2.Register an account in ZY Cami.
3.Install phone on it make it balance,turn on phone bluetooth and Smooth Q3, connect phone with ZY Cami.
4.Start using your Smooth Q3.
Illuminate to Create
Shine In Every Way
Integrated rotatable fill light with touch button to light you up from all angles with three adjustable brightness levels. A guarantee for a brighter you in the front, back or 180° all around.
Three-Axis Stabilizing System
Three-axis structure for a surprisingly stable and smooth footage.
Instant Dolly Zoom
Get instant Dolly Zoom and create cinematic short films with just a few simple steps in the app.
Multiple "You", Multiple Fun
Clone yourself up on the same screen with MagicClone Pano to show different sides of you.
Following Made Smart & Easy
Always stay in the spotlight Activate the SmartFollow 30 with just one tap via the App
This feature needs to be used with ZY Cami App
Slow Mo Motionlapse & Panorama
ZY Cami App
Unlock more fun by using Smooth Q3 with ZY Cami which is compatible for both iOS and Android phones
Prime Membership
More advanced features for the Prime members Advanced Filters Exclusive Music Cloud Editing, and 4K Video Upload.
Say Yeah to Gesture Control
Too much to handle for your hands? Use just a single gesture to control the shooting while you can just be yourself anywhere anytime. Available in multiple panorama modes.
Stream Like A Master
One app for all platforms. Use AILive in ZY Cami to achieve face-tracking in multiple live streaming platforms.  Face tracking is also available in cameras, glamour effect apps, and short-video apps.
*This feature is for ZY Prime members only.
Zoom It Wide. And Wider.
You deserve a wider world in your hand. Shoot it with ultra-wide angle for your vast landscapes or low-angles.
*Only available in iOS and smartphones that support wide-angle shooting.
Easy Portrait Mode
Portrait mode transferred with 2 single taps on the button.
Dynamic Filters
Numberous filters to address your footage. Vibrant, dynamic and stunning visuals with a single tap in your ZY Cami.
Friendly reminder: Our Europe warehouse cannot support to ship product to Canary islands in Spain. The odds to lost parcel is high. And some customers complains that they don't receive the product for a long time. Thanks for your cooperation.
Description
Zhiyun Smooth-4 Smartphone Stabilizer has been designed to provide cine-style functions to content creators using their mobile phones for video capture.
Free downloadable ZY Play app enables Android and iOS users to control both gimbal and smartphone camera functions such as focus, zoom, time-lapse,
and still photo settings. A dedicated "Vertigo" function emulates the perspective-shifting, dolly/zoom effect dear to many filmmakers. It is more ergonomically
laid out and better labeled with icons compared with Zhiyun Smooth-3. There is a significantly larger focus/zoom wheel for PhoneGo mode to quickly grab
the action with smooth transmission. The functions of multiple time-lapse and object tracking also bring you more shot insperation. It supports smartphone
weighing up to 7.4 oz and measuring up to 3.35" high, offers 300-degree pan, 240-degree roll and 240-degree tilt for nimbly capturing action shots or smoothly
gliding along more tranquil scenes. Zhiyun Smooth 4 is powered by rechargeable lithium-ion batteries, featuring a runtime up to 12 hours. A USB Type-C port
on the handgrip enables you to add a separately available power pack to extend your shooting time. An LED display indicates power statues. Included mini
tripod and designed 1/4"-20 female thread on the handgrip bottom can bring you better using experience by compatible accessories.
Features:
1. Supports smartphones weighing up to 7.4 oz / 210g, and up to 3.35" in height
2. 360° of pan, 240° of tilt, and 240° of roll; Large, cine-style focus/zoom wheel with a witness mark
3. Dolly Zoom Vertigo effect, Quick-response PhoneGo modes, Multiple time-lapse and follow-mode choices;
4. Up to 12-hour runtime, able to charge for phone while shooting, support an external power pack
5. Use with the free, downloadable ZY Play app to control select iOS/Android phone functions
Specification:
Number of Axes: 3-Axis
Rotation Range: Pan, 300 degrees; Tilt, 240 degrees; Roll, 240 degrees
Payload: 2.65 to 7.41 oz / 75 to 210g
Smartphone Dimensions: Height 65 to 82 mm
Ports: USB type-C
Battery: Lithium-ion Battery with the capacity of 2000mAh, 5.0V
Runtime: 12 hours
Charging time: 3.5 hours
Operating Voltage: 7.4V
Operating Temperature: 14 to 113 F / -10 to 45 degrees
Mounting: 1/4"-20 Female Thread
Dimensions: 12.91*4.84*4.13" / 328*123*105mm (with handlebar)
Weight: 19.29 oz / 547 g (with handlebar and battery)
Package contents:
1*Zhiyun Smooth 4
1*Type-C USB cable
1*TRM03 tripod
1*Product manual
Pergear Plate for Gopro Hero 6 / 5 / 4 / 3 / 3+ Camera Used with Zhiyun Smooth Q / C / C+ / SMOOTH-II Handheld Stabilizer Gimbal to Connects (Plate Only)
Description:
It's designed for you to make full use of your handheld stabilizer for phone, such as Zhiyun Smooth Q / C / C+ / SMOOTH-II.
(Zhiyun smooth 4 can be compatible with selfie, because when you use the rear lens, its body will be exposed in the lens.)
You can set your Gopro Hero 6 / 5 / 4 / 3 / 3+ Camera on phone gimbal. Low cost, big value by fastening the plate, no more operation.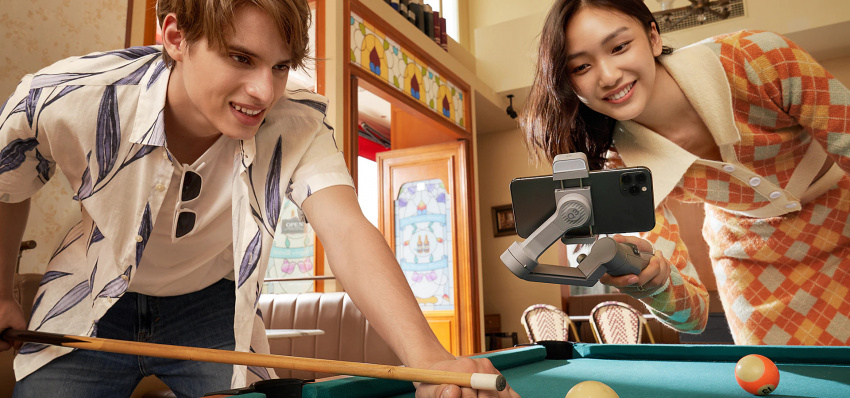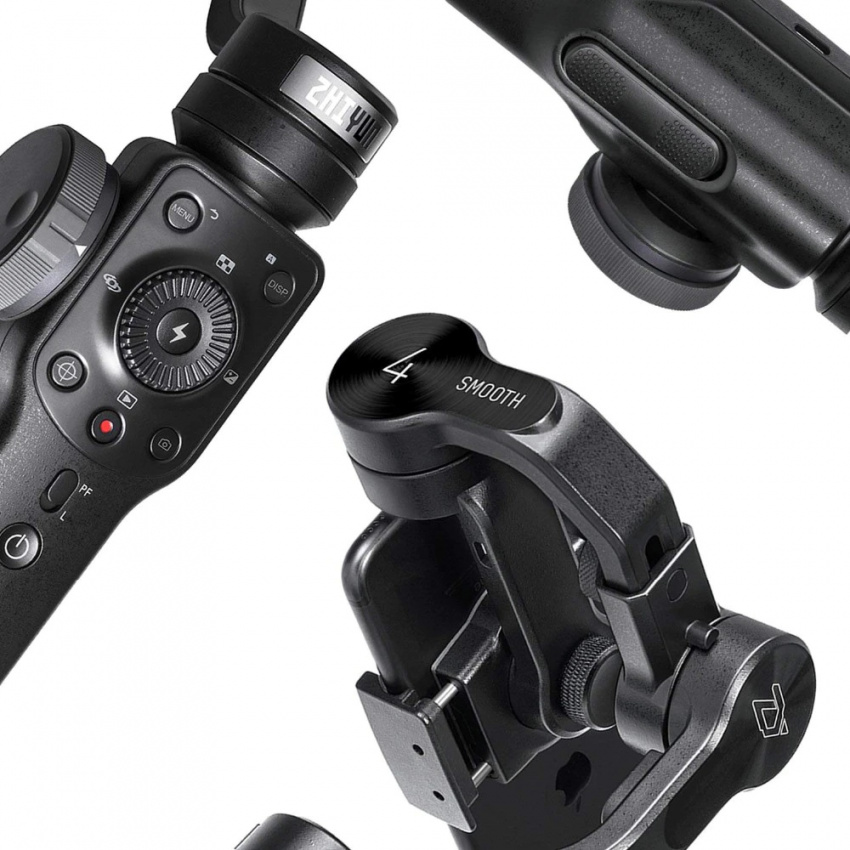 優惠條款及細則
☎️訂購前請先
Whatsapp:68259869
質 詢 電 話:66867308
或店铺沟通查詢,提供留貨服務
⭐️
七天無理由退換
承諾,信心保證
⭐️六年老店,日銷商品百件,好評如潮
⭐️-屋企附近自提點自取
⭐️
支持電子消費券
⭐️
用手機及電腦網頁版落單,可以接受AlipayHK ,八達通 , Tap & Go , WeChat Pay HK,Payme付款
⭐️
七天無理由退換
承諾,信心保證
⭐️六年老店,日銷商品百件,好評如潮
⭐️-屋企附近自提點自取
✅接受 AlipayHK / 八達通 / Tap & Go / WeChat Pay HK
🏆消費者購買商品後,依然可以隨時取消訂單; 視客戶時間要求而定,一般送貨時間為2-7天; 如商品缺貨或客人收到產品有問題可以在7天內免費退換。
🏆
手機端APP多種付款方式攻略: