L7B Pro 3-Axis Handheld Stabilizer Face Tracking Zoom Smartphone Gimbal Wireless Bluetooth for Cell Phone Huawei Xiaomi iPhone Video Recording Vlog
Product Detail:
--Tile Angle: 160°
--Roll Angle: 325°
--Pan Angle: 340°
--Controllable Tile Angle:+30°/-30°
--Controllable Roll Angle: +90°/-90°
--Controllable Pan Angle: +240°/-100°
--Working Voltage: 3.4~4.2V (Standard 3.7V)
--Working Currency: 150~3000mAh (Standard 1500mAh)
--Charging Time: 80mins (use 5V/2A adapter)
--Working Time: 4.5-5h
--lnput Voltage: 5V
--lnput Currency: 2A
--Net Weight: 362g
--Payload: 280g
--Fit the phone size:
diagonal: ≤180mm
width: 55-90mm
thickness: ≤9.5mm

--Unfold: 260mm*130mm*88mm
--Folded: 152mm*110mm*46.6mm
--Bluetooth: Yes
--Face tracking: Yes
--lOS: lOS10.0 system and later
--Android System: Android 6.0 system and later
The difference between the upgraded version of L7BPro and L7B:
1. Quick folding: shaft instead of knob;

2. Zoom function is added;

3. Power on and play as you go
(The gimbal is stable whether you put the mobile phone or not)

4. Without adjustment it to balance;

5. Support 10W fast charging. 5 minutes charging, half an hour working;

6. One second startup (the startup speed is the fastest in the industry at present);

7. Rich keys and intuitive display.
Why Choose L7B Pro Gimbal Stabilizer:
1. Power on without Phone
Originate creating in gimbal industry, smart power on without stalling smartphone

2. Support Fast Charging
10mins charging support 40mins work, 80mins will be fully charged

3. Quick landscape & portrait mode switch
Single press the power button to switch between landscape and portrait mode

4. Panel Indicator
Four mode lights make operation easier, FPV add camera lens control direction

5. Zoom Function
Support adjust the zoom speed in APP anytime and anywhere you want

6. Work while charging
Can charge for gimbal while usage, don't be afraid of out of power when go outside

7. Wonderful filming
Multi-function like Dollyzoom, Inception, Panoramic video and Cut in action helps make fantastic

8. Original Camera Control
Press the power button twice to call out the phone original camera when bluetooth is connected
L7Bpro Gimbal Stabilized
Built in 3-axis mechanical stabilization technology turn the phone into professional camera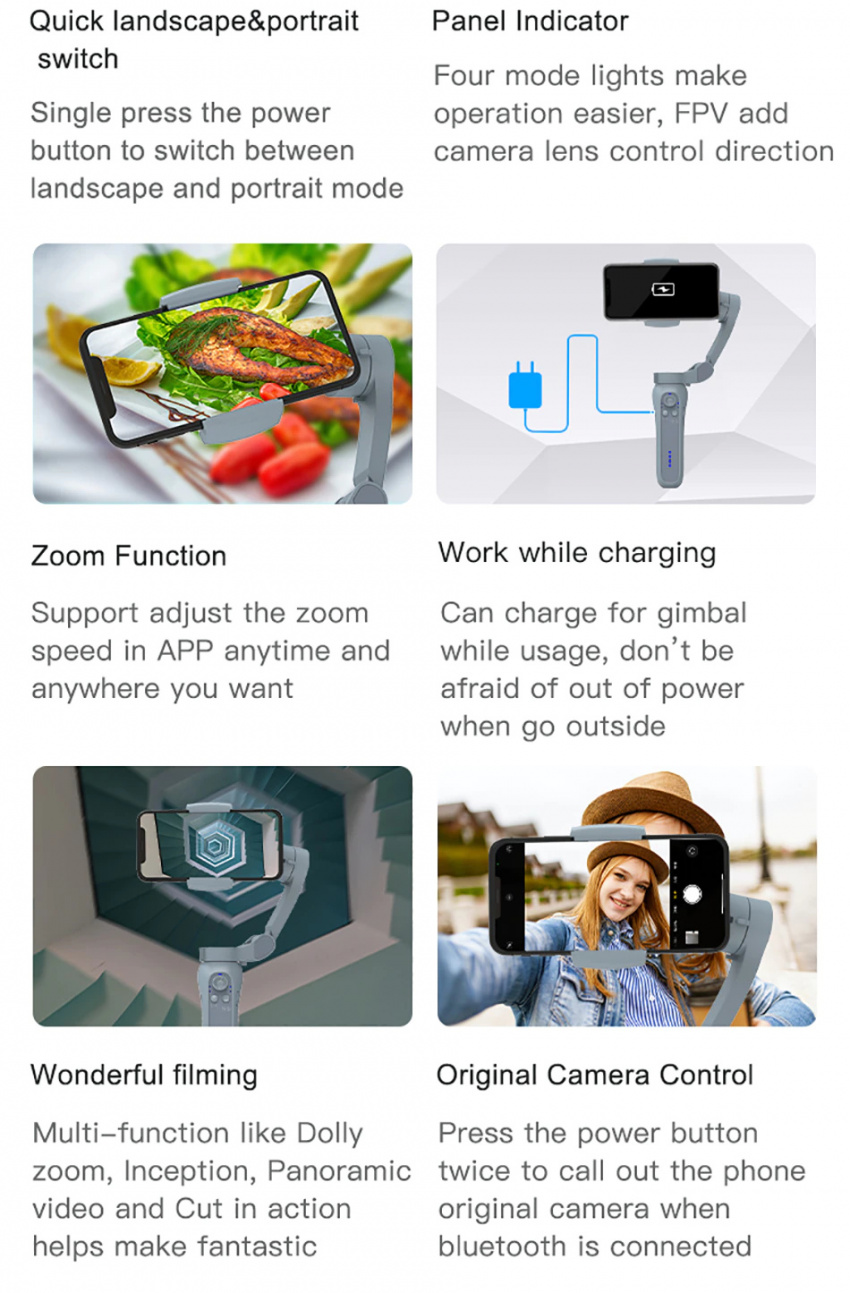 Quick Charge and Work While Charging
Super friendly endurance and can do fast charge. Full charged in short time, won't influence the usage while charging.
Smart Power On
Quick power on gimbal without phone within one second is possible, put on phone whenever you like
Quick Landscape Portrait Switch
Single press the power button to switch between landscape and portrait mode
Face Tracking while Broadcast
Facebook, Instagram both support face tracking while you are broadcasting, realize the real time interaction with audience
Inception/Dolly Zoom
One key to active the cool Inception Dolly zoom shooting, make Hollywood blockbusters conveniently, free your hands
Smart Tracking
Gimbal will track the face or object after circle out the tracker, follow the target's movement accurately.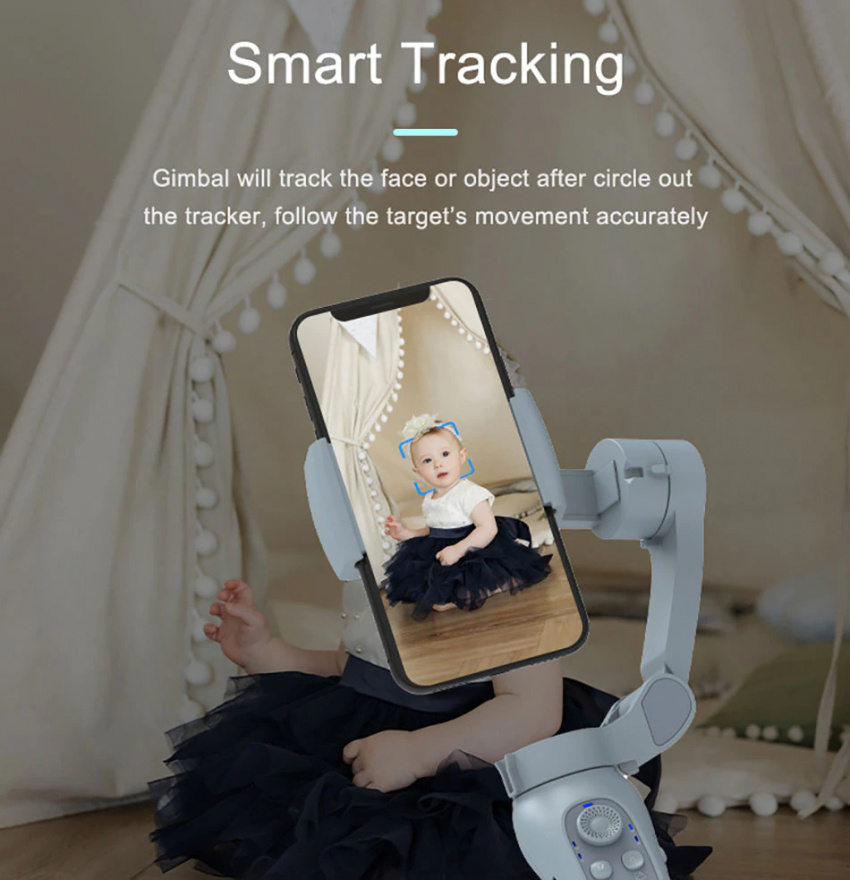 Super speed mode/Time lapse Intelligent shooting etc cool play
Shoot everything and every changes in life, interact the gimbal in short time to catch every beautiful moments, meet your cut in action demand anytime
Bluetooth Reset
Reset the bluetooth name within 3 seconds, avoid the situation that can't find the correct bluetooth in public
優惠條款及細則
⭐️
支持電子消費券
⭐️
用手機及電腦網頁版落單,可以接受AlipayHK ,八達通 , Tap & Go , WeChat Pay HK,Payme付款
⭐️
七天無理由退換
承諾,信心保證
⭐️六年老店,日銷商品百件,好評如潮
⭐️--屋企附近自提點自取------收取嘅郵費只負責到居住地自提D(非順豐自提D),如果冇自提D,具體郵費需要與客服溝通(要送貨或者順豐自提D令問客服)
✽送貨方式✽
只負責到居住地自提D(非順豐自提D),如果冇自提D,具體郵費需要與客服溝通(要送貨或者順豐自提D令問客服)
☎️訂購前請先Whatsapp: 98423283
質詢電話:
66867308
或店铺沟通查詢,提供留貨服務
✅接受 AlipayHK / 八達通 / Tap & Go / WeChat Pay HK
🏆消費者購買商品後,依然可以隨時取消訂單; 視客戶時間要求而定,一般送貨時間為2-7天; 如商品缺貨或客人收到產品有問題可以在7天內免費退換。
🏆
手機端APP多種付款方式攻略: