產品介紹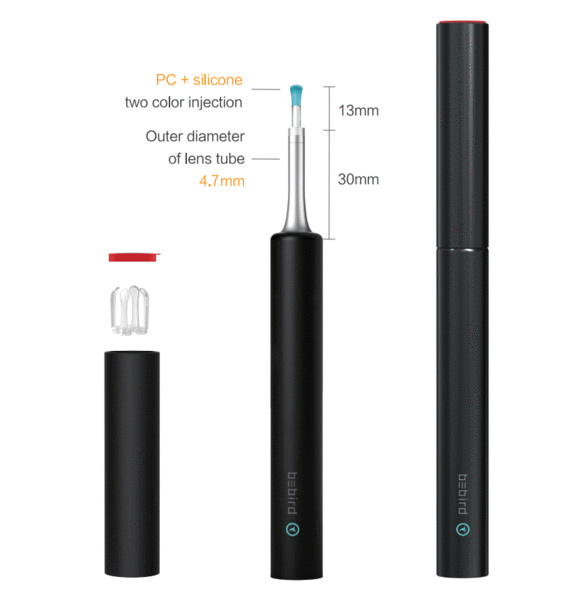 Bebird C3 Pro:Package Contents List
C3 Pro x 1
350mAh lithium built-in battery x 1
Type-C charging cable x 1
9 accessories gift package x 1
High Definition Camera
Bebird C3 Pro has 3.0 Megapixels HD lens with 6 LED Lights, which has Anti-Fog & Anti-Dust Technology, will see more detailed and microscopic views. Equipped with 3-Axis smart directional gyroscope,100hzFast Transmission and Real-time View, it provides smooth image delivery to make it easier for operation.
0.5in Automatic Focusing Distance.
Complete Accessories, Value Experience
All earwax removal kits are included and can support you and all your family member's ear care demands. The kits are reusable and easy to be cleaned and disinfected.
New PC+Silica Material Ear Scoop
The Medical Bio-grade PC+Silica Material Ear Scoop is soft and the silicone protective plug can be safety to meet different people. It can also be used by children over 3 years old.
Dual Temperature Control And Long Battery Life
Temperture Controll : Closing to the human body's temperature, care you and your family's ears.
Long Battery Life: 250mAh lithium battery, one hour of charging provides enough battery power to last 30 days of regular daily use.
Choose The Safely And Gently Cleaning Ear Canal At Home
Cleaning out your ears with a cotton swab, ear Pick or finger is a bad idea. A very bad idea. You might pick up a tiny amount of ear wax with the swabs as you smear it around but the bulk of the wax just gets compacted and jammed further into the outer ear canal. In fact, cotton swabs just make the problem worse. The swab works just like a trash compactor in your ear, jamming and compacting, jamming and compacting. Pretty soon, it's time to go to the doctor to undo the damage you've done.
Easy To Set Up And Wide Compatibility
Download and install the Bebird APP on your device, it can be easy to connect WiFi with Android smartphone / tablet and IOS iPhone / iPad. More functions, you can not only check ear canal and clean earwax, help your family member do ear exam, but also check ear for your dog, cat with the alcohol sterilization. It is also suitable for skin, teeth examination.
IP67 Waterproof
IP67 waterproof function can support inspection of washable and etc., but please do not stay in water for a long time.