Before you buy this item, in order to avoid some unnecessary troubles,you must read those tips at first .
Please note:
Please make sure your device is compatible with the extension, otherwise it cannot be used. The Type-C interface of the laptop must be Thunderbolt 3 or support the USB3.1 protocol.HDMI function requires Type-C interface to support Display mode

There are 3 models available, please choose suitable model according to your needs:
---12 in 1 Interface included ---
Gigabit Ethernet Lan RJ45*1 (10/100/1000Mbps Broadband)
USB 3.0*2 (high-speed data transmission, flash disk/mouse/keyboard and so on)
USB 2.0
3.5mm Audio Jack/Mic 0-in-1*1
USB C PD charging*1
USB C data port*1
---8 in 1 Interface included ---
4K (3840*2160 / 30HZ) HDMI*1
Ethernet Lan RJ45*1 (10/100Mbps Broadband)
SD Card Reader*1

USB C PD charging*1

USB C data port*1
---6 in 1 Interface included ---
SD Card Reader*1

USB C PD charging*1

 
1. Make sure that the host USB-C port on the device complies with the USB 3.1 specification or the USB-C port is Thunderbolt 3.

2. To use the HDMI output port, the host USB-C port from your device must support DisplayPort Alt Mode.

3. 3.5mm Audio needs to be used with HDMI or VGA.

4. Some computer systems need to manually install the network card driver to connect to the Internet

5. To use the Power Delivery function to power and charge a connected USB-C laptop, the host USB-C port from your device must support USB Power Delivery. The USB-C input charging port cannot be used for data transmission.
6. When connecting to laptop, Do NOT support charging cellphone through USB-A or USB-C female port due to limited current.
7. 
Only support connecting 1 HDD/SSD at a time
; Please provide power supply when connecting to power-hungry devices.
8. Not support charging for HP laptops and tablets via the PD USB-C charging port.

9. Charging Power Delivery enabled Dell USB-C laptops via the PD USB-C charging port requires using your 55W or above original power adapter.
10. For Samsung Galaxy S10/S9/S8/Note10/9/8, it is compatible with Dex Mode through hub, phone system version requires Android 9.0 or above.



---12 in 1 Product Feature---
USB C Docking Station 12 IN 1:With this laptop docking station, you can easily meet your daily use, it includes 4K HDMIx2, VGA, Gigabit Ethernet, 2 USB 3.0 ports, 1 USB 2.0 port, USB C power charging port (maximum 100W ), a USB C 3.0 port, SD / Micro SD card reader and 3.5 mm microphone / audio.

Docking Station Dual Monitor&Triple Monitor:With this docking station, it can easily help you achieve dual-monitor or 3-monitor display. ★Note: Before purchasing, please check whether the USB C port of your laptop is a full-featured interface that can support audio and video. You can go to the official website of the notebook to check. Or consult us, we are happy to help you.

3.Super Speed Data Transfer Ports:This USB C docking station has 2 USB 3.0 ports and 1 USB C 3.0 port. Their transfer speed is up to 5Gbps, allowing you to transfer files and music from USB flash drives, USB/USB C hard drives in a few seconds , Movies, etc. In addition, you can connect a keyboard or mouse via a USB 2.0 port without delay.

Multifunctional USB C Hub:Multifunctional USB C Hub: USB C docking station is compatible with PD charging port, input power is 100W, output power is about 85W. Charge your device and connected devices quickly and safely to ensure stable data transmission. The RJ45 Gigabit Ethernet port can support 10/100/1000Mbps network speed anytime and anywhere, providing stable Internet access. In addition, this USB-C docking station has a 3.5 mm Audio&Mic port.

High-speed charging: Support PD charging at max 100W; This USB docking station provides one Type-C pass through Female port by which you could securely charge your laptop while connecting multiple peripherals for data transferring and worry-free power storage; With power delivery, a single USB-C port can give you Blazing-fast charging speed experience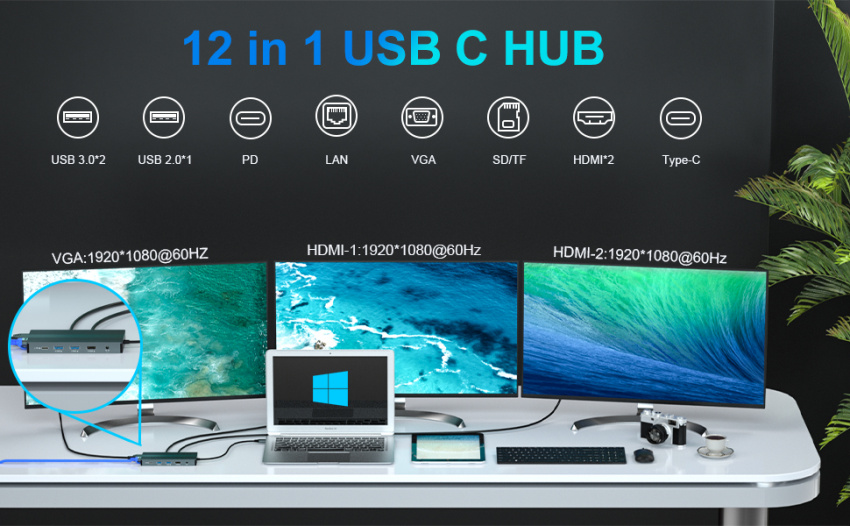 USB C docking station dual monitor for HP Dell Lenovo Mac Surface laptop-2 HDMI and VGA ports support simultaneous work.
This USB C hub macbook pro docking station provides a stable connection and improves the efficiency of the device by expanding the female USB C port to multiple connection possibilities. Keep the laptop charged while still supplying power to every external device connected. Extensive compatibility can meet all the needs of almost all USB C devices.
Please note
1. If you are not sure whether it is compatible with your device, I will be happy to help you check whether it is compatible with your device.
2. Only applicable to laptops with built-in usb c port, this usb c hub cannot be used with usb to usb c converter.
3.Please check which Functions supports by your Laptop's built-in USB C port first, only if your laptop's built-in USB C port is fully funcitonal port which support Data transfer & Video Display & PD charging, you can use the full functions of our docking station.Below types of USB C port are Fully Funcitonal Port:Thunderbolt 3,The USB Type C 3.1 Gen 2 with Power Delivery & DisplayPort,USB Type C 3.2 Gen 2 with Power Delivery & DisplayPort
4.Supports a Dual HDMI display up to 3840 x 2160@30Hz, or triple 1920 x 1080 displays @60Hz with VGA. (For Apple computer user (MAC OSmac os), displays are mirror mode only.)
5.DP Alt mode required: Display Port Alt Mode (DP Alt Mode) allows a USB-C equipped computer to connect directly to a display or monitor.
6.Ensure your Laptop has a type C Power delivery port (USB 3.1 Type-C (Gen2)) or Thunderbolt 3 port (supports PD charging) before purchase.

Compatibility List (Not full List)
Apple: MacBook 12", MacBook Pro2016/2017/2018/2019/2020 MacBook Air, Mac mini, iPad Pro 2018
Google: Chrome Book Pixels/Pixel Book Pen
Dell: XPS13/XPS15, G3/G7/G7 series, Inspiron 5000/7000
Huawei: Matebook 14/Matebook 13/MateBook/MateBook X/MateBook E/Matebook X pro
Xiaomi: Air 12.5/13.3", Pro15.6"
HP: Shadow Elf 4Pro, EliteBook 1050G1, EliteBook Folio G1/1050G1/840G5
ASUS: Lingyao 3/3pro, Lingyao X, U306, U321, U4100UN, U5100UQ, ROG series Samsung: Note Book series, Galaxy Book series
Lenovo: Y7000/Y7000P/Y9000K/Y9000X, YOGA6 Pro, ThinkPad X1 Carbon, Yoga Razer: Blade Stealth Microsoft: Surface Book2/Surface Go
Phone series (not a complete list)
Samsung: S10, S10+, S9, S9+, S8, S8+, Note 8, Note 9, Note 10, Note 10+
Huawei: Mate 30/30Pro/30RS, Mate20/20Pro/20X/20RS, P30/P30Pro, P20/P20Pro, P40/P40Pro, Mate10/Mate10Pro, Honor V20, Honor Note10
HTC: Ultra, HTC 10
LG: LG G5, LG V30, V40, V50, G7, G8 Microsoft: Microsoft 950, Microsoft 950XL
Razer: Razer Phone OPPO: Find X, R17 Pro
<
優惠條款及細則
接受 AlipayHK / 八達通 / Tap & Go / WeChat Pay HK
✅20元現金優惠碼:MONEY20 , 限1月31日前使用 !
🌟 幻維電腦🌟 💯原裝行貨💯
🚚 全港各區屋企附近自提點攞貨
📞Whatsapp:94460062
質詢電話:
66867308
✅ 超長15日有壞包換,一月代理保養🔧
✅ 收到貨試機有壞包換保證✅
✅ 提供報價服務,歡迎查詢
💳 為指定信用卡客戶提供免息分期服務 (6/12/24個月)
⏰ 辦公時間:09:00PM-22:00PM
📧 電郵:sabriifatmeh5@gmail.com
🏆
手機端APP多種付款方式攻略: