Before you buy this item, in order to avoid some unnecessary troubles,you must read those tips at first .
Please note:
Please make sure your device is compatible with the extension, otherwise it cannot be used. The Type-C interface of the laptop must be Thunderbolt 3 or support the USB3.1 protocol.HDMI function requires Type-C interface to support Display mode

There are 3 models available, please choose suitable model according to your needs:
(1) 11 in 1 Hub :
RJ45 1000Mbps + HDMI 4K + VGA 1080P+ Mini DP +3.5mm Audio + SD +TF + 34*USB3.0 +  PD 87W USB-C Mouth
(2) 10 in 1 Hub :
VGA 1080P + RJ45 1000Mbps + HDMI 4K + 3.5mm Audio + SD +TF + 3*USB3.0  + PD 87W USB-C Mouth
(3) 8 in 1 Hub :
RJ45 100Mbps + HDMI 4K + Type-C + SD/TF+2*USB3.0+PD 87W USB-C Mouth


HDMI supports 4K 30HZ, VGA supports 1080P,PD charging: supports maximum of 100W.
IMPORTANT NOTE !!!
- Especially for Type C Port Laptop/Tablets/Phone

- Please ensure the Laptop has tb 3 / USB-C 3.1 Gen 2 /USB-C 3.1 Gen 1 (Support Power Delivery) to support multiple-display before purchase.

- To use the HDMI output port, the host USB-C port from your device must support DisplayPort Alt Mode.

- Not support charging for HP laptops and tablets via the PD USB-C charging port.

- For a stable connection, do not use this hub with high-power devices. It supports one hard drive max.

- All USB ports support Charging and Data Transfer.
- When the mobile phone / tablet uses the hub for data reading or Screen Extension Display, the phone/tablet itself needs to support the OTG function. 
Note:
If your laptop isn't in the compatilbe list, You MUST make sure the host USB-Cport on your laptop is full-featured USB-C.
Full-Featured USB-C:USB3.0/USB 3.1 + DP(Display Port) + PD(Power Delivery).


11 in 1 HUB
【Meet your needs for more interfaces】This USB C hub comes with 1 Ethernet/RJ-45 port, 1 VGA port,1 HDMI port, 1 DisplayPort,1 USB Type-C PD charging port, 1 Micro SD card slot, 1 SD card slot, 3 USB 3.0 ports and 1 3.5mm audio/mic 2 in 1 port. This USB C hub applies to all Type-C laptops that support Alt Mode for video output over USB-C.

【USB C to HDMI/VGA adapter】3XI usb c docking station support HDMI output and VGA output to two displays at the same time with 1080p full HD resolution while the laptop display is being used.Single use for HDMI up to 4k@30hz .Great Gift Choice for people who need multiple monitors to work or type c laptop owners.

【USB-C to Gigabit Ethernet Hub】The Gigabit Ethernet Port supports 1000Mbps, backwards compatible with 100Mbps/10Mbps .The wired LAN port provides faster and more stable network speed and improves the instability of the wireless network.

【USB C to USB 3.0 Hub with PD Charging Port】Transmission speeds up to 5 Gb/ s. This Type C Hub with 3 high speed USB3.0 ports has plenty of room for your additional peripherals like external hard drive, USB flash drive, mouse, keyboard, etc. Fast PD Charging: Power your laptop with up to 60W(20V/3A) power delivery while connecting multiply peripherals for data transferring .

Specifications:
Support USB-C input, USB3.0 Output

Support HDMI resolution up to 4kx2k@30Hz

Support Mini DisplayPort resolution up to 4kx2k@30Hz

Support VGA resolution up to 1920x1080@30Hz

The total output of the 3 USB-A is 7.5W(5V@1.5A)

Support 10/100/1000Mbps bandwidth

Stereo port supports both microphone and headphone

USB-C female charging port for Macbook or Google new Chromebook Pixel and other USB-C supported devices.

Multiple USB-C interfaces support plug and play, hot swap

Support SD/SDHC/SDXC

Support Multi Media Card (MMC) specification

Support Micro SD/SDHC/SDXC (up to 128 GB)

Product Size: 280*80*16mm

Weight: 250g 
Package Include:
1 X Docking Station Adapter

Compatible laptop devices: (not a complete list)
Laptop with a fully function(support charging, data transfer and video output) USB-C port or Thunderbolt 3 port. Or please confirm with us.

Compatible for Apple: MacBook/ MacBook Pro (2020/2019/2018/2017/2016); Macbook Air 2018-2020, Mac mini 2018-2020; iPad Pro 2018; iMac 27 2019 Extended HDMI Monitor

Compatible for Surface: Microsoft Surface Book 2/ Surface Go/ Surface Laptop 3; Surface Pro 7

Compatible for Dell: Dell XPS 9380/ XPS 13 9365/ XPS 15 2018/ XPS 13 9300/ New XPS 15 with i7 dedicated video card 64GB of ram and 2TB SSD; Latitute 7280/ Latitude 5310 2-in-1; Precision 7730/ Precision 7750; Laptop 5590

Compatible for Lenovo: Lenovo Yoga 720-13IKB/ Yoga 730/ Yoga 900-13ISK/ Yoga 910/ Yoga 920/ Yoga 930/ Yoga 940-14IIL; 3rd generation Thinkpad Yoga; Yoga15 Thinkpad Ultrabook Pro; Thinkpad E590/ Thinkpad P72/ Thinkpad T470/ Thinkpad X1 Carbon (2019 model); Flex 14 IML (81XG)/ Flex 5; Legion Y530; Lenovo C930/ T480s/ X390/ 81N8

Compatible for HP: HP Spectre Laptop 13-af001TU/ Spectre x360 13t/ Spectre folio (13t-ak000cto)/ Spectre 360 laptop/ Specter x369; Elitebook 840 G5 series/ Elitebook X2/ Elitebook x360 1030 G3/ Elitebook 745 G6/ Elitebook 830 G6/ 2018 HP Elite 800 G4; Envy Geforce mx250/ Envy x360 Laptop (15z-ds100); Z book 15u G3/ Zbook 17 G4

Compatible for ASUS: 13'' ASUS Zenbook UX330UA/ Zenbook Flip ux370u; ASUS TUF Gaming A15 Gaming Laptop

Compatible for Samsung: Samsung Galaxy S10+/S10/S9+ /S9 /S8+ /S8 Plus; Note 10 / 9 / 8; Galaxy Book Flex Alpha 2-in-1 13.3" QLED Touch-Screen Laptop; Galaxy Tab S5e/ Galaxy Tab S4; Galaxy S20 Ultra

Compatible for Xiaomi: MI Air 12.5/13.3,Pro 15.6

Compatible for Huawei: Huawei Macbook Mate10/ Mate10 pro/ Mate20/ Mate20 pro / Mate30/ Mate30Pro

Compatible for MSI: GT76 Titan; B450M Mortar motherboard

Compatible forAcer: Acer Aspire 5 2019; D17w3 Aspire c24-865

Compatible for other: Google Slate (2019); Chromebook C340-15; SanDisk Cruise Glide; Razer Blade 2017 (gtx 1060); Pixel book go 2019/2020

Phone series (not a complete list)
Compatible for Samsung: S10, S10+, S9, S9+, S8, S8+, Note 8, Note 9, Note 10, Note 10+

Compatible for Huawei: Mate 30/30Pro/30RS, Mate20/20Pro/20X/20RS, P30/P30Pro, P20/P20Pro, P40/P40Pro, Mate10/Mate10Pro, Honor V20, Compatible for Honor: Note10

Compatible for HTC: Ultra, HTC 10

Compatible for LG: LG G5, LG V30, V40, V50, G7, G8

Compatible for Microsoft: Microsoft 950, Microsoft 950XL

Compatible for Razer: Razer Phone
11 in 1 USB C Docking Station
Key Features:
Three Video Output (HDMI / DisplayPort / VGA)

60W USB-C Power Delivery

SD / Micr SD Card Readers

Gigabit Ethernet

3.5mm Audio & Microphone Port

3 x USB 3.0 Portso
Triple vivid display extends in Mac and Win
There is only Mirror Mode and Non-Mirror Mode on Preference. Therefore, you CANNOT make two external monitors show different displays because the OS X system only allows two different displays, one on your laptop and the other on the external monitors.

Triple display: HDMI+VGA+DP, but only Windows system support the Triple display; Mac OS is not supported. You can choose two or all of the video port to upgrade your experience on gaming, movies.(your own laptop should be OFF)

It highestly supports 4K resolution when connecting one 4K monitor.If MULTIPLE displays are connected for display extend.The final resolution is determined by your devices and connection.
Fast PD charging
No driver needed,plug and play.
Support USB-C pass-through charging,Allows to charge your laptop while using a USB-C hub.
High-Quality 3.5mm Audio
support Audio and Mic 2 in 1 Port makes listening, talking, or recording a breeze.
Double-sided non-slip strip
The docking station is designed with non-slip strips on both sides, and it can be easily used whether the USB-C port is located on the right or left side of the laptop.

10 in 1 HUB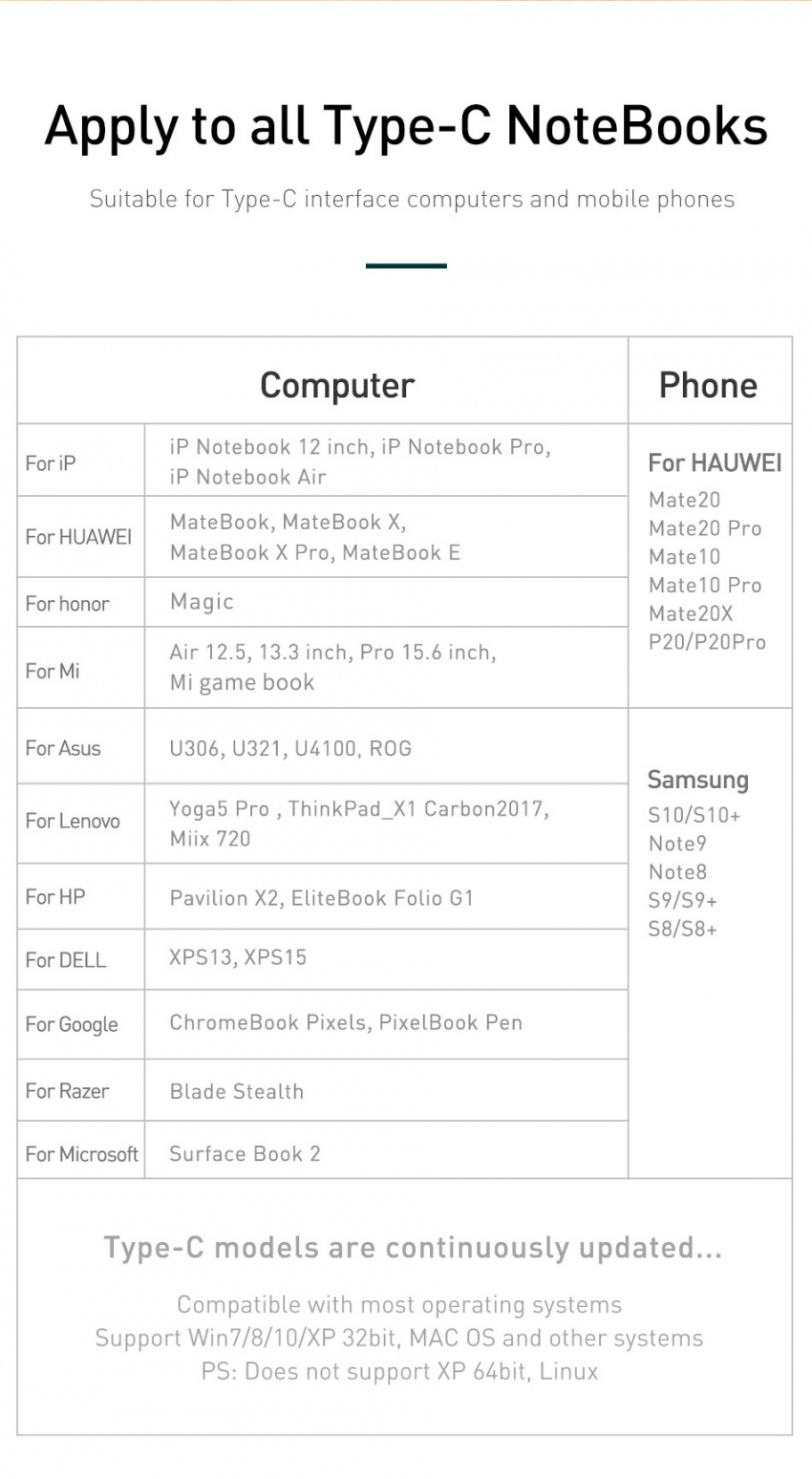 Specifications:
優惠條款及細則
接受 AlipayHK / 八達通 / Tap & Go / WeChat Pay HK
✅20元現金優惠碼:MONEY20 , 限1月31日前使用 !
🌟 LINO數碼🌟 💯原裝行貨💯
🚚 全港各區屋企附近自提點攞貨
📞Whatsapp:94460062
質詢電話:
66867308
✅ 超長15日有壞包換,一月代理保養🔧
✅ 收到貨試機有壞包換保證✅
✅ 提供報價服務,歡迎查詢
💳 為指定信用卡客戶提供免息分期服務 (6/12/24個月)
⏰ 辦公時間:09:00PM-22:00PM
📧 電郵:sabriifatmeh5@gmail.com