USB-C Dock Station 10Gbps USB 3.2 Hub 4K/60Hz Triple Monitor 16-IN-1 65W Power Adapter PC Laptop Macbook Windows Docking Station
The Specifications P05S Plus:
Pls Read it Careful before Purchase it. Any Questions pls contact us, Thank you very much.
All in One(16 in 1)USB C Desktop Docking Station for Home & Office Working Station:
P05S Plus come with A 65W AC Adapter supply power to the Dock and Laptop.

Desktop-designed USB-C Hub makes whole desktop and workplace more tidy and efficient. Collecting all the wires to make the desktop space organized & clutter-free.

You will enjoy a wonderful triple display docking station workplace at office or SOHO .

Package Contain:
1* P05S Plus Dock Station
1* 65W AC Adapter (EU/US/UK Plug)
1* USB C to USB C Cable(Full-Featured)
1* User Manual
1* Pack Box
Features of P05S Plus:
✅〖Multiport Docking Station〗: 16 ports allowing you to connect almost all devices through a single gear; 4K video ports to cast different content on each display, Gigabit lan port, high speed SD/TF and 8 USB ports. Note: be sure to plug in the included 65W power adapter during operation.
✅〖Triple Extend Display to Boost productivity〗: With 2 HDMI and 1 DP, it can cast up to 4 different contents on displays; Actual resolution up to 4K@60Hz when using a single HDMI/DP port; 4k@60Hz in total when using 2 or 3 in Windows system. Note: MacOS DOES NOT support MST mode, all monitors will mirror the desktop interface (A-A-A-A or A-B-B-B mode).
✅〖10Gbps Super Fast Data Transmission〗: 3*USB 3.2 GEN 2 ports offering a data transfer speed up to 10Gbps for smartphones, tablets, flash drive, hard drive and any compatible external storage; 2*USB 3.0 and 2*USB 2.0 ports for keyboard and mouse; built-in SD/TF cards slots can simultaneously read and write files from different devices.
✅〖65W Power Adapter & Gigabit Ethernet〗: With the independent 65W AC power adapter for laptop/dock unit in the package, all ports on the dock share a maximum power supply of 65W ensuring safe and stable performance during usage. Gigabit internet Rj45 port ensuring a rapid and reliable network connection (backward compatible with 1000/100/10Mbps).
✅〖Long-term Product Guarantee〗: Very thanks for your support, you can get a 12-month worry-free warranty and a friendly customer service within 24 hours during for this 16-in-1 docking station. magBac is always committed to providing customers with better service and experience.
Parameters of P05S Plus:
Brand: magBac
Product Name: DS-P05S Plus
Material: Aluminum Alloy
Color: Space Grey
Charging Laotops: YES
AC Power Adapter: 65W
Style:Desktop Design with Double-Sided Cooling Vents
Product Net Weight: 0.26KG(with package is 0.8KG)
Warranty: 1 Year

Interface Specifications:
1* 65W DC-IN: The power of the adapter is up to 65W, providing MAX 50W high power for your laptop
2* HDMI 2.0b: Up to HDR 4K@60Hz, 4K@30Hz, 1080p@120Hz, for HDMI-enabled monitor, HDTV or projector
1* DP 1.4 : Support DP1.4 and 1.4a, Up to HDR 4K@60Hz, 4K@30Hz, 1080p@120Hz
1* USB-C PD Connector: for Thunderbolt 3, Thunderbolt 4, USB4, USB 3.0, or USB-C laptops, support USB3.2 Gen2, DP1.4, support PD3.0
1* USB-C 3.2 GEN2: Up to 10Gbps, compatible with USB C 3.0, maximum support 900mA output
2* USB-A 3.2 GEN2: Up to 10Gbps, compatible with USB3.2 GEN1, USB3.0, USB2.0, maximum support 900mA output
1* USB-C 3.0 Port: Up to 5Gbps, maximum support 900mA output
1* USB-A 3.0: Up to 5V/1.5A, up to 5Gbps, compatible with USB2.0
2* USB-A 2.0: Up to 5V/1.5A, up to 480Mbps, for smartphones, USB flash drive, mouse, keyboard, and more
1* RJ45 Gigabit Ethernet: 1000Mbps BASE-TX Auto MDI/MDI-X. (Windows7, Mac OS10.9 and below need to manually install the network card driver)
2* SD/TF Card Reader: Secure DigitalTM v3.01 UHS-I (Ultra High Speed): SDR12/ SDR25/ SDR50/ DDR50/ SDR104/SDHC/ SDXC (Capacity up to 2TB)
1* 3.5mm Audio: 48K stereo output and Mic input, support CTIA standard. For headphones, speaker, microphone, or others
Compatibility:
ALL of our Dock station is Compatible with Thunderblot 3/4 or Full-Featured USB C Laptop. Any USB C Compatibility issue before buying this unit, please check the USB C protocol of laptop in the manual spec book or laptop service staff first.

Note: A full-fetured USB-C means the protocol of USB C supports Power delivery and Displayport Alt mode output.

If you're not sure, it's best to consult your laptop after-sales or us. (Thunderbolt 3/4 is definitely supported.)
AC 65W Plug-In Power Adapter for DC laptop/Docking Station and other USB Devices Power Charging during operation:
With the attached power adapter(enclosed),laptop charging dock delivers the quick laptop battery charging rate for Thunderbolt 3/4/USB-C laptop - Up to 50W( but the battery charging time will be a little longer comparing to the original laptop adapter for the power consumpiton of docking station).

NOTE: The attached AC 65W power adapter must be used during any operation.(Please DO NOT use any other third party adapter).
Support to Extend 3 Different Content Sum of Total Resolution up to 4K/60Hz Monitors::
P05S Plus support Mirror mode and Extend mode for Windows system and Mac OS system Laptops.

PLS NOTICE: for Macbook Pro/Air only Support extend 1 different monitor!!!

Mirror Mode for Windows and Macbook: A-AAA
Extend Mode for Windows like: A-BCD
Extend Mode for Macbook like: A-BBB
2x HDMI+DP Ports Output up to Max 4K/60Hz for A Single Port of Three:
All the screens total Max 4K/60Hz(Depends on protocol of USB C port of host Laptop is DP1.4; Otherwise, only 4K/30Hz best resolution can be workable).

2*HDMI and 1*DP ports of this standing docking station allow you to expand up to triple display with your monitor, TV or projector. Can output up to 4K@30-60Hz (Dual Monitors) simultaneously and backwards compatibility with 2K@60Hz (Windows Triple Monitors). In extended mode.

2 * HDMI 2.0: Up to HDR 4K@60Hz, 4K@30Hz, 1080p@120Hz, for HDMI-enabled monitor, HDTV or projector.

1 * DP 1.4: Support DP1.4 and 1.4a, Up to HDR 4K@60Hz, 4K@30Hz, 1080p@120Hz.

Pls Notice: · The Monitor and type-C device must support 4K@60Hz to achieve high definition resolution, and used with a 4K screen display and HDMI 2.0 cable.
The Picture Below we took while tested the product:
Super Fast USB 3.2 Gen2 10Gb/S Data Transmission Protocol for Both USB A & USB C Ports:
USB3.2 Gen2 10Gb/S Super Quick Transmission Data Protocol for Two USB C Port and One USB A port(on the front panel).

New upgraded USB 3.2 Gen2 Data Protocol Is Used to This Docking Station for usb flash Drive/SSD/HDD/Movies Files Transferring in Seconds.

USB3.2 GEN2 ports supporting data transfer rates at up to 10Gbps, 20x faster than USB 2.0

1. USB A 3.2 Gen2 port on this docking station for any devices which transfer data through 1 USB A port

2. USB C 3.2 Gen2 port on this docking station for any devices which transfer data through 2 USB C ports

USB 3.2 Gen2 is a brand new data transferring protocol from USB-IF, Data sharing speed is double comparing to the USB 3.0.

You will enjoy a super quick speed for any SATA/NVMe/PCI-e SSD or very big capacity of USB flash drive or HDD, etc, saving much time in transmission for you.

Both USB A and USB C ports on this dock for your convenient using of different devices(Total5 USB A ports and 3 USB C female ports)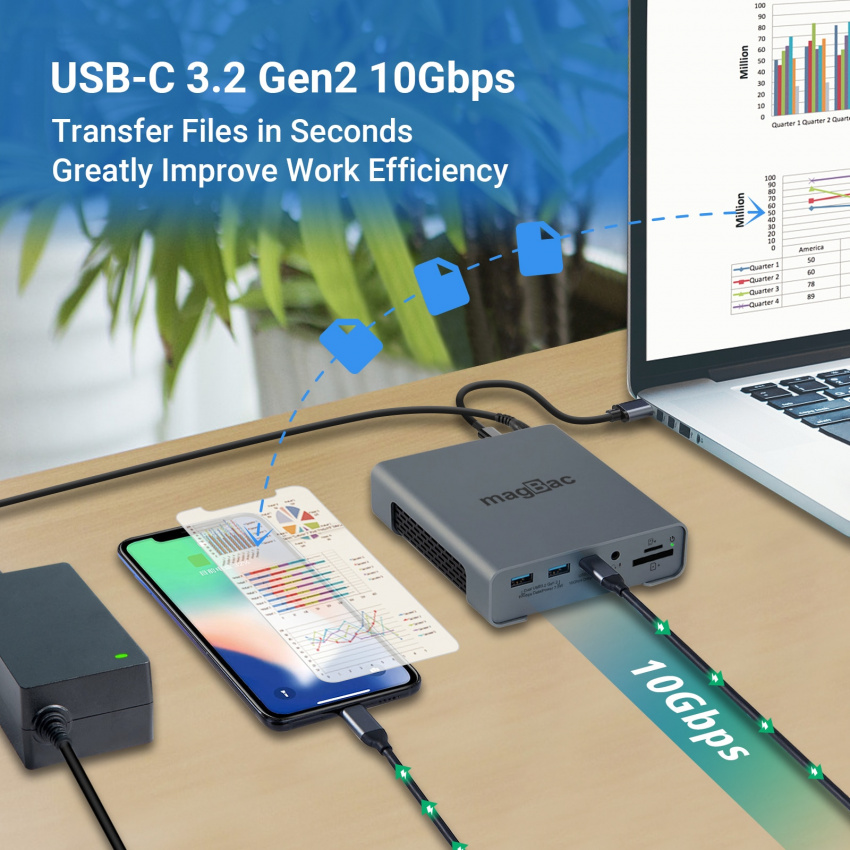 Desktop & Double-Sided Cooling Vents Design:
Heat dissipation side design for a more stable and smooth working performance, it will always keep the P05S Plus USB C Docking Station in great working situation.
Super-Speed Internet Experience with Powering The Laptop:
P05S Plus Built-in standard Gigabit ethernet instead of normal Rj45 interface for the super-speed surfing the web or online shopping, whatever homewroking or traveling, there will be great internet experience for you by connecting the network cable to the Gigabit ethernet port.

The gigabit network port can intelligently configure the most suitable network speed for you according to your network speed status (1000Mbps/100Mbps/10Mbps).
SD/TF Card Slot 3.0 Support Working Together:
Also with this usb c to sd card reader, you can conveniently browse photos instantly on your USB-C smartphones/laptops and transfer a lot of photos in seconds(up to 104Mb/s) to your laptop. Also this SD/TF card slots support SD & TF work simultaneously.
Pls Notice: the P05S Plus and P05S was printed the brand AUIMCE, we are one company !!! it's the same product , if you mind about it , pls DON'T purchase it.
優惠條款及細則
接受 AlipayHK / 八達通 / Tap & Go / WeChat Pay HK
✅20元現金優惠碼:MONEY20 , 限1月31日前使用 !
🌟 LINO數碼🌟 💯原裝行貨💯
🚚 全港各區屋企附近自提點攞貨
📞Whatsapp:94460062
質詢電話:
66867308
✅ 超長15日有壞包換,一月代理保養🔧
✅ 收到貨試機有壞包換保證✅
✅ 提供報價服務,歡迎查詢
💳 為指定信用卡客戶提供免息分期服務 (6/12/24個月)
⏰ 辦公時間:09:00PM-22:00PM
📧 電郵:sabriifatmeh5@gmail.com