1.MST&SST for Windows, Only SST for Mac/Chrome - Support most WindowsOS devices (especially "Intel Evo Platform") to display two split screens (ABC/MST), or one mirroring screen (ABB/SST) at Extend Mode (Some devices are not supported). IMPORTANT: on Mac/iPad/ChromeOS devices, these two monitors display one mirroring screen at Extend Mode (ABB/SST), which is limited by OS itself. (Only 1 output for M1 MacBooks (2020 Air & Pro))
2.Max 4K@60Hz Output - When only one port is in use, the resolution is max 3840x2160@60Hz. To ensure the 4K/60Hz performance, please make sure to use a HDMI 2.0 cable (or better), it is also subject to the definition of your monitors. Support HDCP 2.2. Support mirror and extend mode of MacOS (ABB/AAA), WinOS (ABC/ABB/AAA)
3.Signal shielding - The CB-CF53H adopt new signal shielding technology in the adapter, prevent the adapter to interference the 2.4GHz WIFI. Precise USB-C plug snugly fit into your devices for better signal transfer. Unibody aluminum alloy casing for better heat dissipation
4.Cable Sink & Durable Design - The cable sink on the left for you to keep the cable inside and protect it from accidental damage.Non-slip connector for easier plug and unplug. Reinforced braided nylon cable for long lasting durability
5.Supported Lists - 2020/2019/2018/2017/2016 MacBooks (Air & Pro, 11, 13 15, 16 inches with thunderbolt 3 Porst), New iPads (Air & Pro, 11/12.9 inches with USB C ports), New iMac/Pro, Dell XPS, Surface Pro 7/Book 2/Go, Pixelbook, Chromebook, Intel NUC, HP, Acer, Lenovo, more with DP ALT Mode. (See Product Detail Page for MST/SST limitations)
Notes about Multi Stream Transport (MST) or Single Stream Transfer (SST), When using two ports at the same time:
Support most WindowsOS devices to display two split screens (ABC/MST) or one mirroring screen (ABB/SST) at Extend Mode
Support Mac/iPad/ChromeOS devices to display one mirroring screen (ABB/SST) at Extend Mode Only, Not support MST
Note: The USB-C of your devices need to support DP ALT Mode
Compatible Devices (Tested):
1.Support SST Mode only: MacBook Pro, MacBook Air, MacBook 12, Mac mini, iPad Pro, Chromebook. (With USB-C port)
2.Support MST Mode and SST Mode: Dell XPS12(9250) / Dell XPS13(9350) / Dell XPS15(9550), Dell Latitude 13 7000 / E7370, Lenovo Yoga 720 / Yoga 900 / Yoga 910 / Yoga 920 /Yoga 930, ASUS Zenbook UX330UA, Microsoft Surface Book 2 / Surface Go / Surface Pro 7 / Surface Laptop 3
3.Only one port can be used (Limited by devices itself): HP Spectre 360 and more. (Note: it seems that HP devices have more limitation than others)
4.Support Type-C interface laptops or iMac hosts running Windows and MacOS with DP Alt Mode at the same time
5.Support tablets or mobile phones that support the DP Alt Mode, P.S will force the screen to be projected in SST mode at this time
6.Support iPad Pro 2018/ iPad Pro 2020 (external display can only be displayed in full screen in some specific apps downloaded from Apple Store, due to iPadOS limitation)
Can NOT work with (Tested):
HP EliteBook 745 G4 / HP Elitebook 820 G3 / HP EliteBook 828 G4 / HP 14s-be102TX / HP 14-ce1004TX 14 / HP Probook 650 G2 / HP Probook 455 G4 / HP Probook 430 G5 / HP Pavilion-14 bf116tx / HP Pavilion 15 ck009 / HP Pavilion Power Laptop 15-cb / Lenovo ideapad 340s, Tablets / Google Pixel phones / Nintendo Switch / Acer Aspire A5 / Oneplus 5T Phone
It does not support the USB3.1 Gen2 USB-C interface built in motherboards such as GIGABYTE, ASUS, MSI, etc. to use this product; it does not support any USB-C interface built in discrete graphics cards such as NVIDIA and AMD to use this product.
Video Output:
1.The HDMI interface supports output up to: 4K30Hz(3840×2160@30Hz) in MST mode, 4K60Hz(3840×2160@60Hz) in SST mode, 4K60Hz(3840×2160@60Hz) when only one HDMI is used.
2.Support HDCP2.2 and HDCP1.4*
3.On iPadOS devices, 4K60Hz is supported and there will be black borders (subject to its own interactive interface until Apple iPadOS 13.6.1).
4.Insert DP1.2 host, MST mode output dual 4K30Hz
5.Insert DP1.4 host, MST mode output dual 4K60Hz
Tips: If you open the Netflix software (using HDCP2.2) on the MacBook Pro, connect the HDMI cable (support HDCP) through the HDMI interface of the Type-C adapter (support HDCP) and connect an external monitor (support HDCP) to watch 4K smoothly video. If any node in the closed loop does not support HDCP function/HDCP version number does not meet (HDCP2.2 devices do not have the feature of backward compatibility to 1.4, but most HDMI chips support 2.2 and will also support 1.3 and 1.4 separately) . Then the video window will prompt that the HDCP protocol is invalid-a black screen/cannot be played. Known websites that require HDCP technology are Amazon Prime Video, Netflix, and DAZN
HDMI Splitter
Connect your laptop to a bigger screen to enjoy the reality under 4K@60Hz resolution. The best solution for live sport, 4K movies, and games. A immersive experience for you
Dual Monitors Display
Support USB-C devices dual HDMI output. Output 2 different screens under Windows (ABC/ABB/AAA) at Extend Model or 2 duplicated screens under Mac OS (ABB/AAA). Not Support Mac devices to output two split screens due to MacOS limitation
Aluminum Alloy Body
Mac-style design with premium aluminum alloy casing. Stylish and elegant, durable and excellent heat-dissipation, the partner for your work and business needs
Build-in Smart Chip
The build-in chip is able to ensure the dual HDMI adapter output stable and clear video signal without screen tearing. Restore the original video to you, refresh your feelings and experience
Compact and Portable
Sleek & pocket-sized design, easy to put in the bag and carry around. Build your mini work station wherever you like, the cable sink on the left for better use and protect the cable from accidental damage
Universal Compatibility
Fit most USB-C devices with DP ALT mode. Plug and play, no driver needed, and low power consume
Texture: 2.5D unibody aluminum alloy
About Stable Driver
The innovation of USB-C technology brings a revolutionary change to the whole electronic industry, which redefines how thin a device can be. More importantly, it makes the dream of One-Connect-All come true. A stable and reliable way to expand the USB port is becoming more and more important. While the truth is, as the unregulated market growing, the All-In-One may become the One-Fails-All.

To solve these fatal problems, LENTION published the advanced industrial standard Stable Driver to help customers buy products with confidence. Stable Driver solved 3 main concerns from customers: Non-interference between different ports (from signal interference to Plug & Unplug interference), Sufficient power supply to support the peripherals working normally, and Working under reasonable temperature to maximize the lifespan of the device.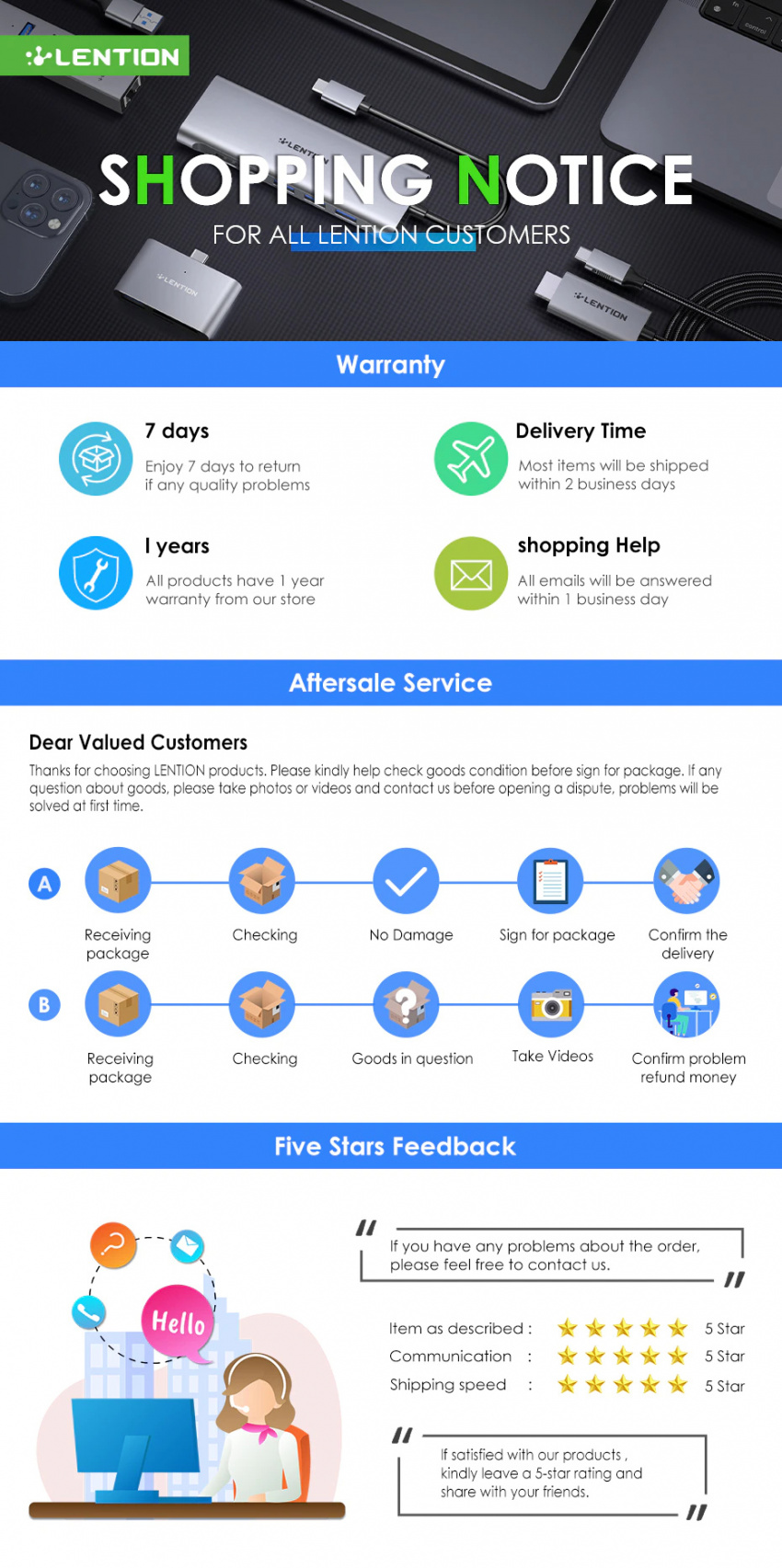 優惠條款及細則
接受 AlipayHK / 八達通 / Tap & Go / WeChat Pay HK
✅20元現金優惠碼:MONEY20 , 限1月31日前使用 !
🌟 LINO數碼🌟 💯原裝行貨💯
🚚 全港各區屋企附近自提點攞貨
📞Whatsapp:94460062
質詢電話:
66867308
✅ 超長15日有壞包換,一月代理保養🔧
✅ 收到貨試機有壞包換保證✅
✅ 提供報價服務,歡迎查詢
💳 為指定信用卡客戶提供免息分期服務 (6/12/24個月)
⏰ 辦公時間:09:00PM-22:00PM
📧 電郵:sabriifatmeh5@gmail.com