Simply the right card
Get more out of your mobile devices with fast read/write speeds, perfect for 4K UHD video.* With astonishing performance and reliability, EVO Plus lets you save and treasure the richness of life.
*For best 4K UHD video support Samsung recommends using 64GB cards or higher. Host device compatibility may vary.
Fulfill your need for speed
Record and play 4K UHD video. With ultra-fast read & write speeds up to 100MB/s & 90MB/s respectively, the 256GB EVO Plus lets you transfer a 3GB video to your notebook in just 38 seconds.* Shoot high quality photos and videos, and share them all in an instant.
*The foregoing read & write speeds are based on internal tests conducted under controlled conditions. Actual speeds may vary depending upon card capacity.
Capacity to live large
Never worry about space again. With massive amounts of storage the 256GB EVO Plus is enough memory for up to 12 hours of 4K UHD video, 33 hours of Full HD video, 55,200 photos, or 22,500 songs.* So go ahead and savor all of what life has to offer, and keep it all too.
* The forgoing statement is based on internal tests performed with Samsung Galaxy S7 as host device and under the assumption that average actual storage capacity is 93.1% of labeled capacity. Actual storage capacity may be lower than labeled capacity.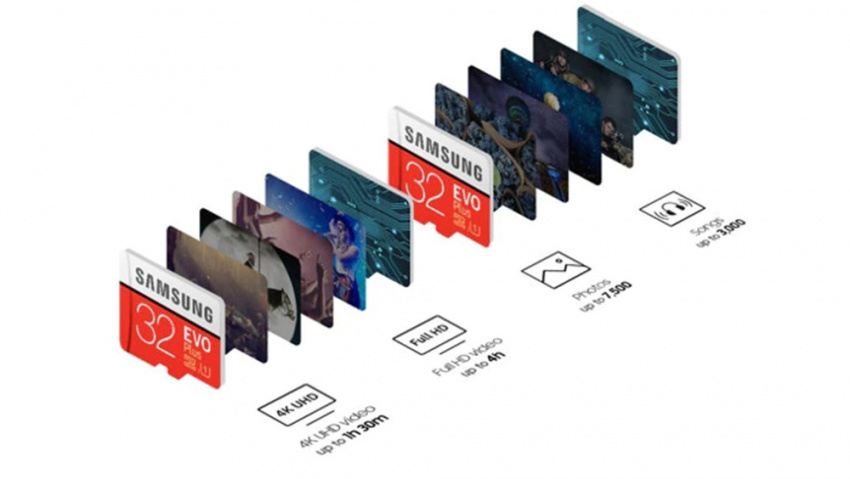 Extended compatibility
Compatible with a wide range of devices for both SD and micro SD. You can even capture detailed 4K UHD video. Using an SD adapter is suitable for most devices of all brands, while retaining all the outstanding speed and performance of EVO Plus.
Your experiences are irreplaceable, and now unforgettable. Backed by 4-proof protection, the EVO Plus can withstand up to 72 hours in seawater⊃1;, extreme temperatures⊃2;, airport X-ray machines⊃3; and magnetic fields⁴ equivalent to an MRI scanner. Samsung provides a 10-year limited warranty*.
1 Certified waterproof with IEC 60529 and IPX7 rating
2 Operating temperatures of -25°C to 85°C, non-operating temperatures of -40°C to 85°C 3 Up to 50 Roentgen 4 Up to 15,000 gauss *Samsung is not liable for any i) damages and/or loss of data or ii) expenses incurred from memory card data recovery.
Samsung memory card anti-counterfeiting verification method
Method one:The Samsung memory card verification service method has been changed from "anti-counterfeit laser sticker" to "software verification". The product packaging has a V-shaped logo.
New authenticity verification needs to download software from Samsung official website (Samsung official website-after-sales service-download center).
Software download address:http://org.downloadcenter.samsung.com/downloadfile/ContentsFile.aspx?CDSite=UNI_CN&CttFileID=7213072&CDCttType=SW&ModelType=N&ModelName=MB-MJ32G&VPath=SW/201902/20190208141146707/SMCA_Win_P00_RC04_2018in0402.exeY&OriginY.exe
Software instructions (Simplified Chinese):http://downloadcenter2.samsung.com/content/SW/201902/20190208141146707/Samsung_Card-UFD_Authentication_Utility_Manual_Chinese_1.3.pdf
Software instructions (multiple languages):http://downloadcenter2.samsung.com/content/SW/201902/20190208141146707/Samsung_Card-UFD_Authentication_Utility_Manual_Englis
During the verification service mode switching, there are two cases where the verification mode coexists in the short term, which is a normal phenomenon.
Method Two:For products packed with the "Anti-counterfeit Laser Sticker" logo, please scrape the anti-counterfeit label layer on the front of the Samsung Memory Card product package to obtain the security barcode,and check the Samsung anti-counterfeiting verification official website.
WARM TIPS
About real capacity
32GB = approximately 28GB-30GB
64GB = approximately 58GB-60GB
128GB = approximately 116GB-120GB
256GB = approximately 232GB-240GB
This is calculation difference between manufacturer and your PC, please Google \'Memory card capacity\' to get more information.
Your
優惠條款及細則
⭐️
支持電子消費券
✅20元現金優惠碼:MONEY20 , 限5月10日前使用 !
⭐️用手機及電腦網頁版落單,可以接受AlipayHK ,八達通 , Tap & Go , WeChat Pay HK,Payme付款
⭐️
七天無理由退換
承諾,信心保證
⭐️六年老店,日銷商品百件,好評如潮
⭐️-屋企附近自提點自取
☎️訂購前請先
Whatsapp:68259869
質詢電話:

66867308
或店铺沟通查詢,提供留貨服務
✅接受 AlipayHK / 八達通 / Tap & Go / WeChat Pay HK
🏆消費者購買商品後,依然可以隨時取消訂單; 視客戶時間要求而定,一般送貨時間為2-7天; 如商品缺貨或客人收到產品有問題可以在7天內免費退換。
🏆
手機端APP多種付款方式攻略: